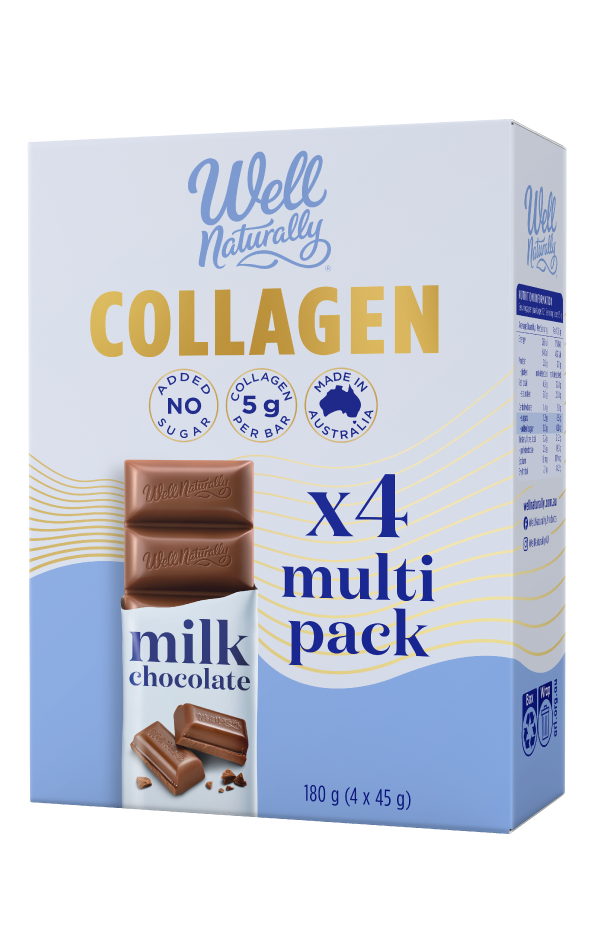 Milk Chocolate
Collagen (multi-pack)
Well Naturally® Collagen chocolate is a delicious way to boost your collagen intake. Enjoy smooth and creamy, melt-in-your-mouth milk chocolate with 5 g of Collagen per bar to help you look and feel your best self. With no sugar added – it makes your healthier choices feel so natural, it's hardly a choice at all. It's perfect as a sweet dessert or an indulgent snack between meals. Ingredients: Polydextrose, Milk Solids, Cocoa Butter, Sweeteners (Erythritol, Steviol Glycosides), Collagen (12%), Cocoa Mass, Emulsifier (Soy Lecithin), Natural Flavours.
Milk Chocolate contains minimum 30% Cocoa Solids and minimum 21% Milk Solids.
CONTAINS MILK AND SOY. MAY CONTAIN PEANUTS, TREE NUTS, LUPIN AND SESAME. EXCESS CONSUMPTION MAY HAVE A LAXATIVE EFFECT.
GLUTEN FREE NO ARTIFICIAL COLOURS, FLAVOURS OR PRESERVATIVES
MADE IN AUSTRALIA FROM IMPORTED AND LOCAL INGREDIENTS.